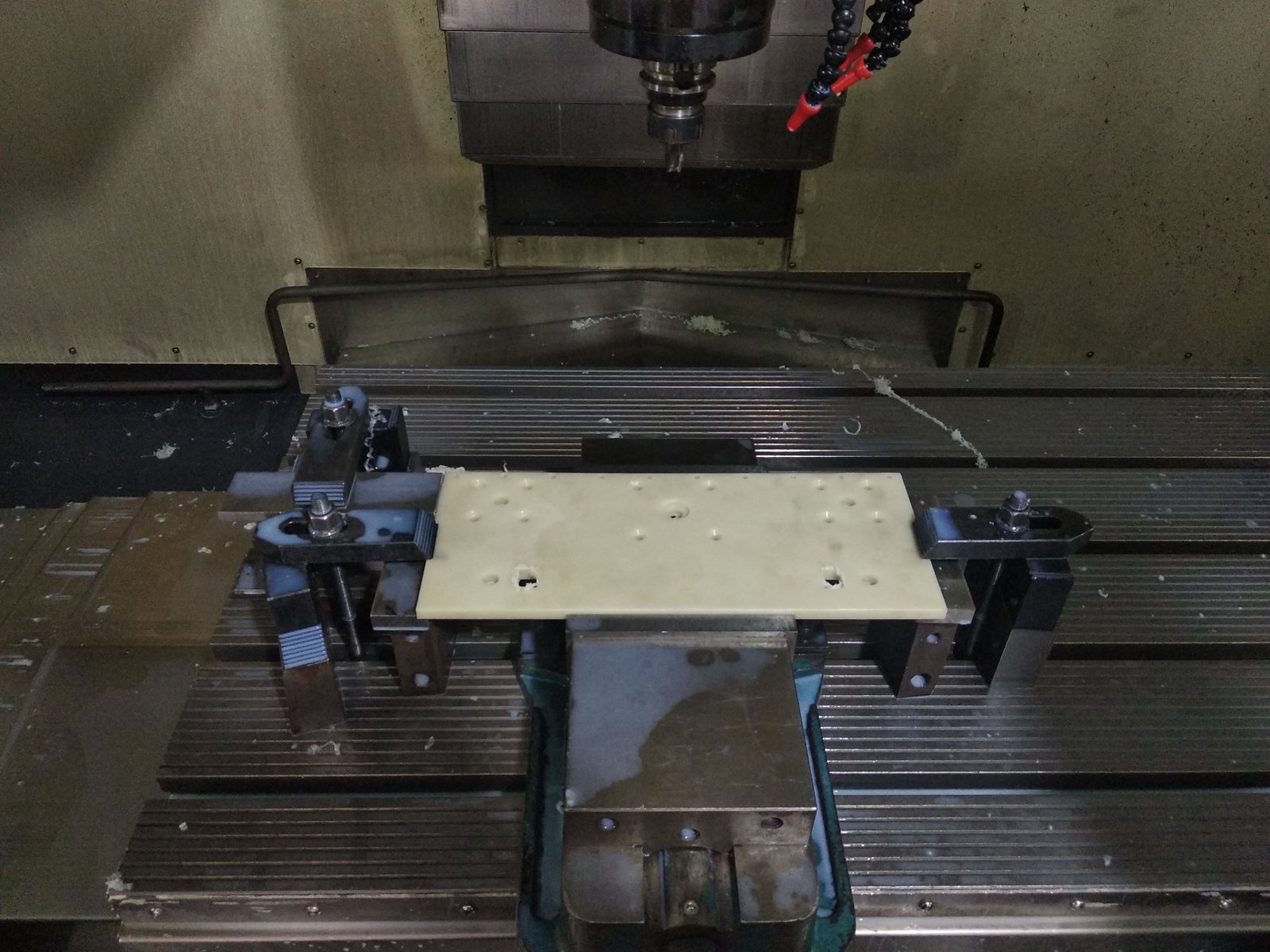 ECO IMPULSE is an Indian firm recognized by Startup India and started with a thought of providing solution for extra renewable energy generation. Our first product is SCR-01, Solar Panel Cleaning Robot.  SCR-01 is specifically developed to clean solar panel with spotless technique without using a single drop of water. 
We are even working on domestic/residential solar plant cleaning techniques and Power tree. We are leaning towards providing end to end solution for any type of renewable energy generation program. 
This is an innovation we wish the world to know, to make it better and useful we will appreciate to resolve any sort of queries or doubts you have or raise regarding the robot or its operation.
We understand your requirement and provide quality works.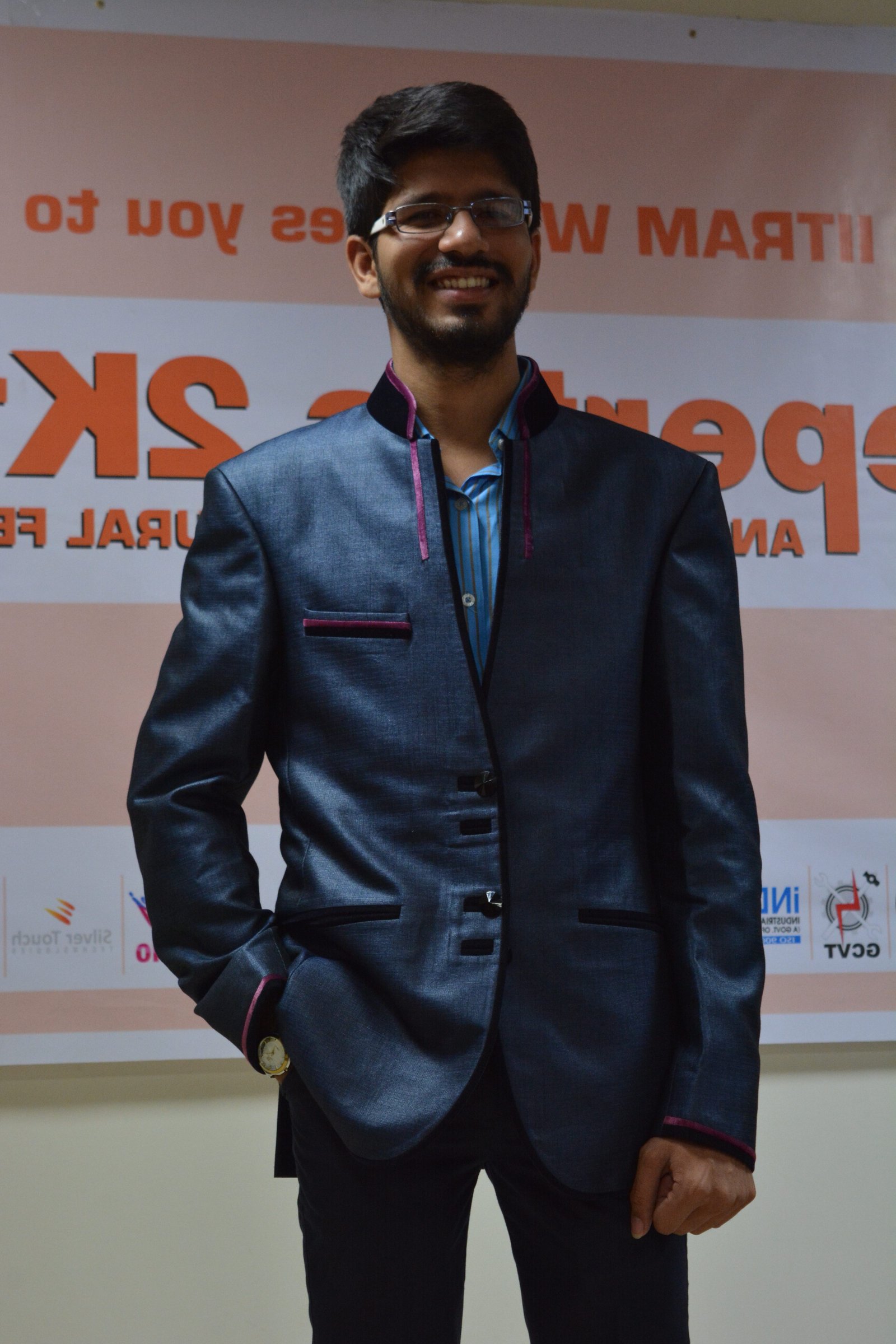 AKSHAT VYAS
The Visionary
Akshat Vyas is Founder and Partner of Eco Impulse. He looks after innovation and electronics part. He likes to read preferably on mythology genre. He is also interested in politics.
RAVI VAGHELA
The Designer
Ravi Vaghela is Founder and Partner of Eco Impulse. He handles Product Design, manufacturing part of product. He is our cute Panda of Eco Impulse. He likes to eat and travel, basically he enjoys life well.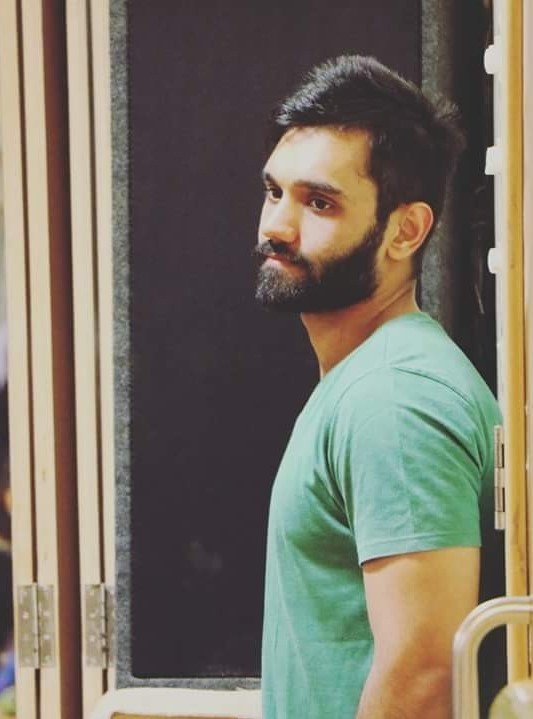 SMIT SHAH
The Propagator
Smit Shah is Investor and Partner at Eco Impulse. Having a vast experience he manages financial activities and networking part. He is involved in market research and will further look after sales and networking activities. He likes to choreograph fashion sequences and to play volleyball.
MRUNAL PATEL
The Technician
Mrunal Patel is a techno geek. He handles the technical value propositions of the product and will further involve in R&D activities . He likes to read and discuss about cosmology, spirituality and vedic science.

90,00,000 +
Panels Cleaned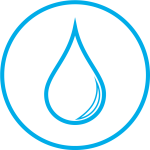 200,00,000 +
Water Saved (Ltr)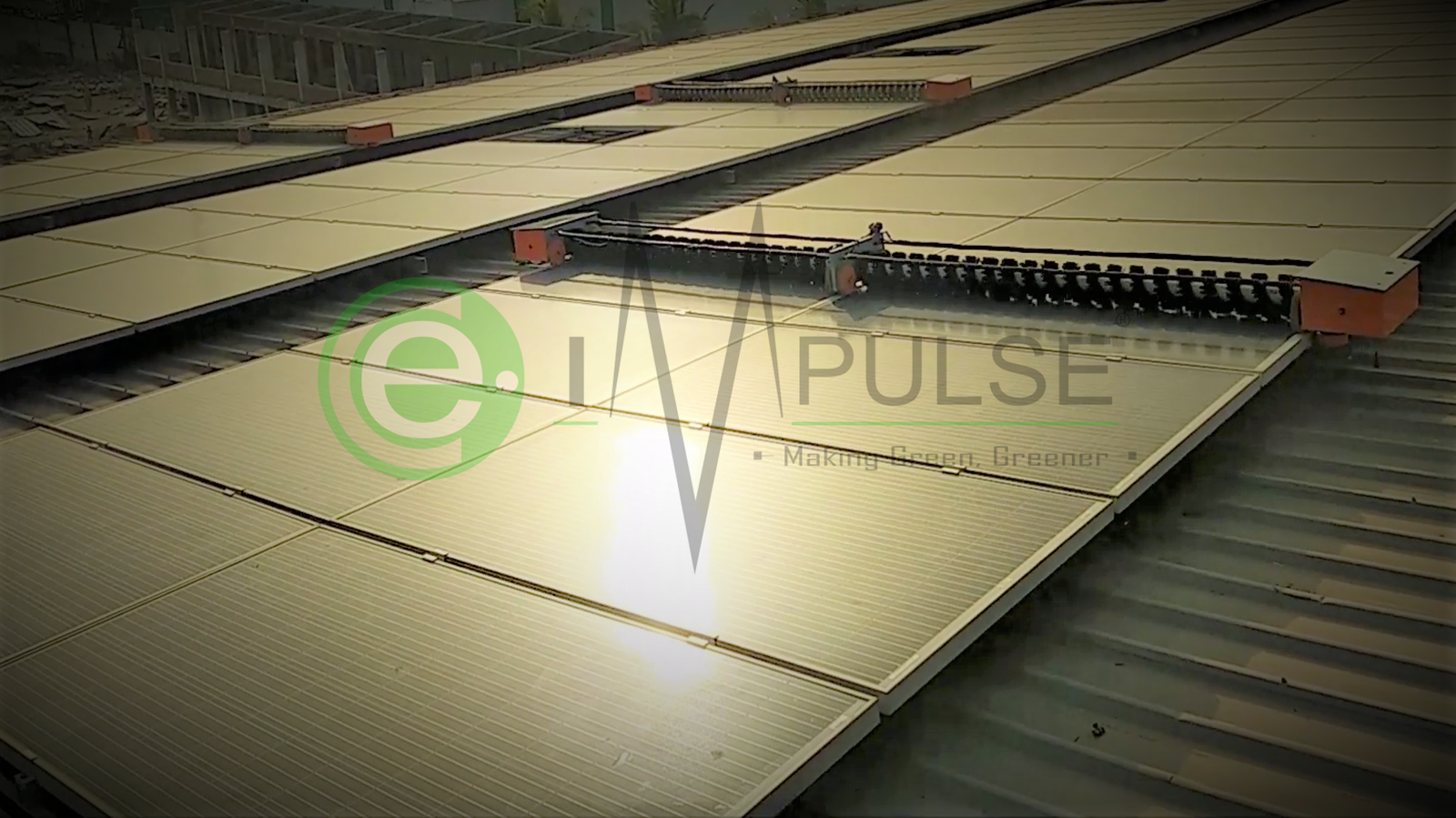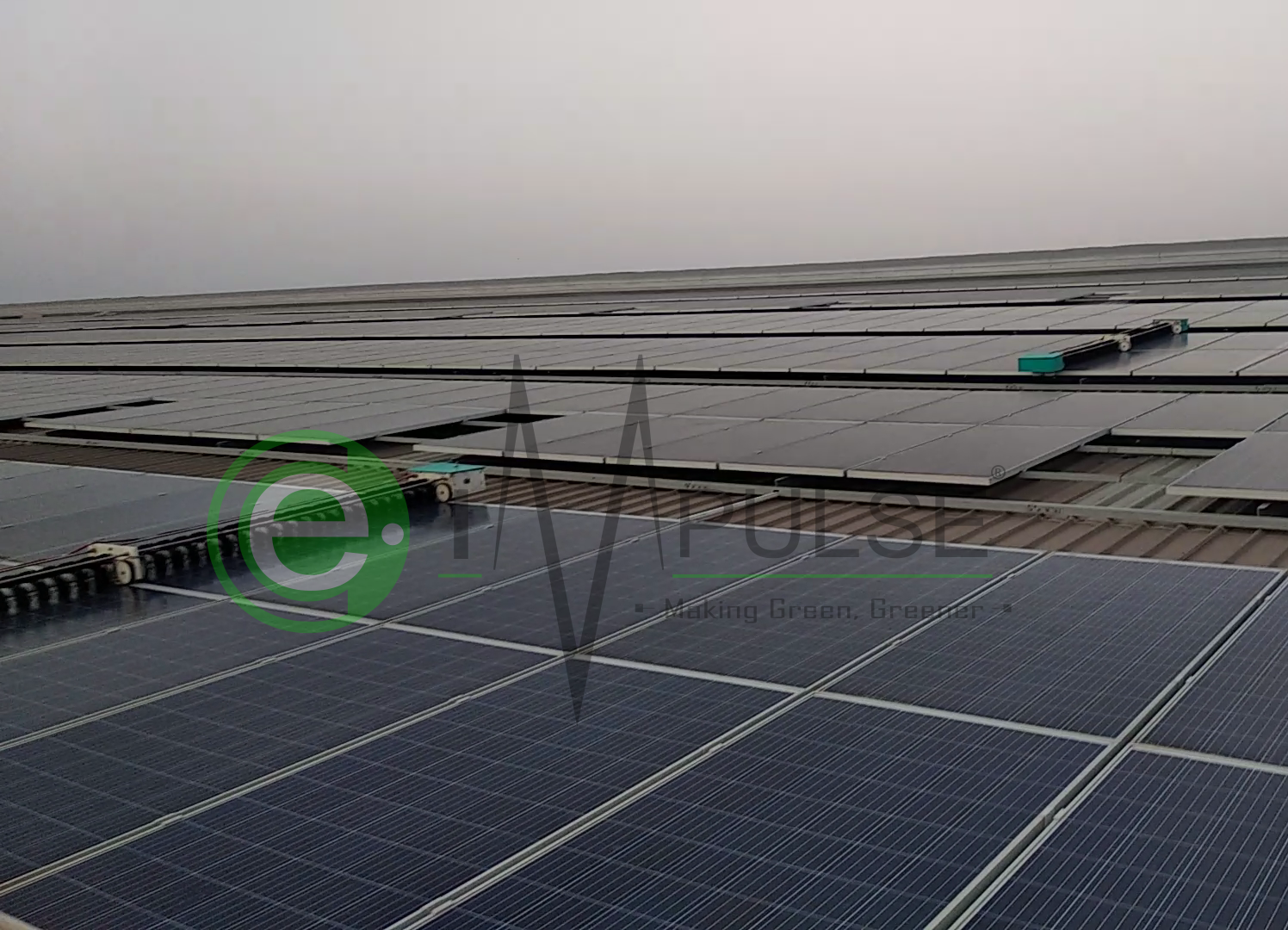 Our solar panel cleaning robot works autonomously and is water free, it does not require any human watch or controlling.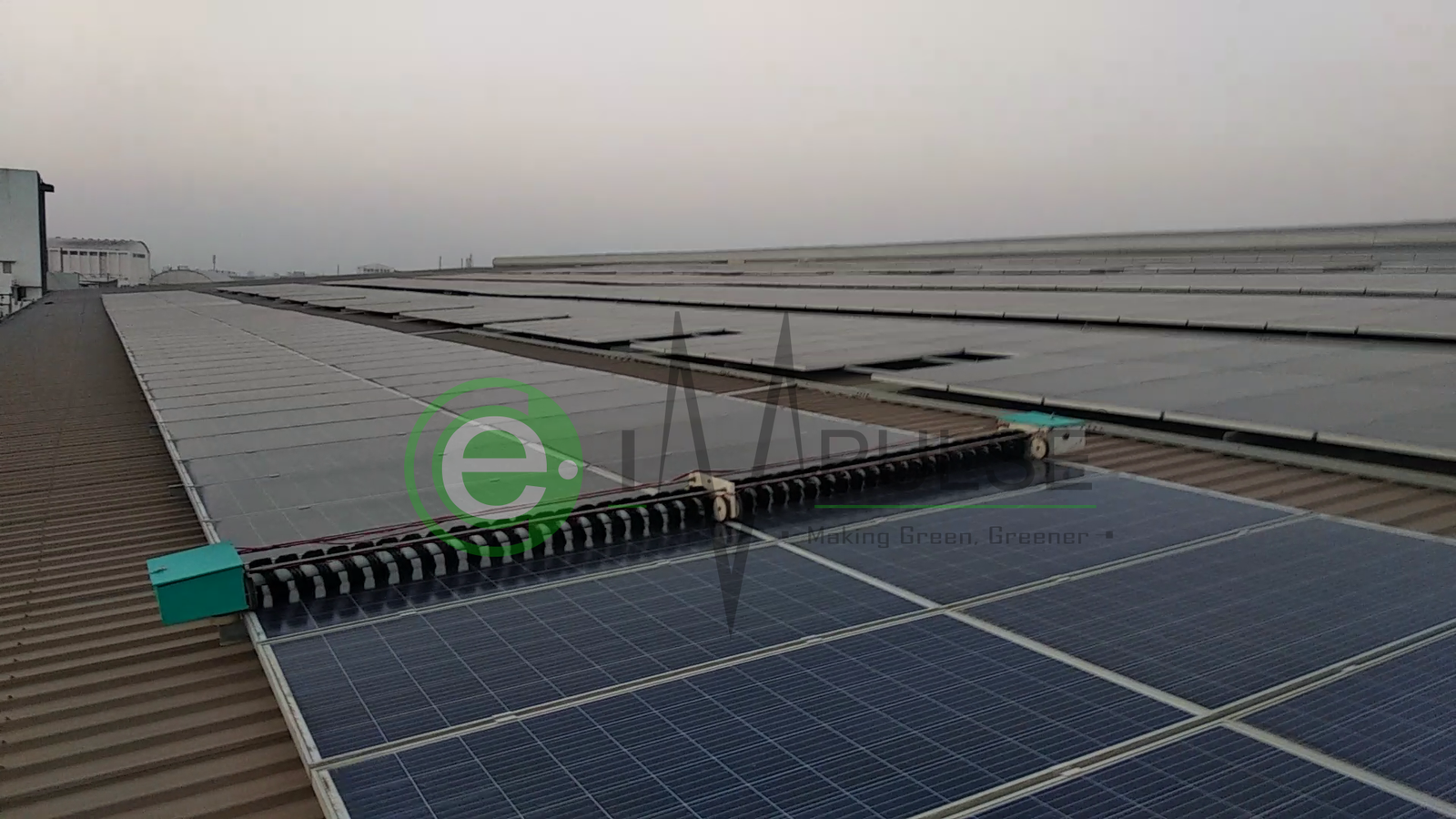 Robot uses cleaning brush having bristle of nylon microfibers  which prevents micro scratches on the panel surface with compare to regular hard nylon bristle brush.  Each bristle of brush is coated with Nano particles of Polyurethane material which prevents dust to stick on the surface of bristle and also nullify the significant amount of static charge.  Cleaning Brush is customised on the basis of geographical location/orientation of solar plant and intensity of soiling, it has screwed pattern so as to allow dust particles to directly fall off the panel and an airflow is generated that doesn't allow light dust particles to settle down on panels again. 

No Damage to Solar Panels
Robot does not require rails to travel, thus nullifying the extra direct load on structure and indirect load on solar panels. It uniformly distribute its load on the panel so total load is very much less than the permissible loading parameters of p v module.  Robots' customised driving wheels are made up of polypropylene material (light weight) with soft rubber (no grooves) as grip to provide better traction. This is the same concept used in racing bikes/cars to provide better rotation without any wheel slip. Avoiding wheel slip helps in proper movement without any abrasion of dust particles between panel and wheels that can cause scratches. Robot is being held by its guide wheels that runs on the aluminium frame without causing any deformation in the structure by uniformly distributing the load. 
If any unauthorised personal tries to open/move the robot, it will come in emergency mode and will send an alarm message to the owner and company itself.
Cleaning of solar panels plays a major role in maintaining the efficiency of a solar plant and keeping it at its peak. There are various ways of cleaning solar plant and majorly dry and wet cleaning. Wet cleaning is done by using water singularly or with help of detergents and sweeping mobs or clothes. Dry cleaning is done by using brushes and special fabric material (natural or synthetic) without use of water. The cleaning pattern can be autonomous or manual. Autonomous cleaning is done by using cleaning robots that requires no human intervention, and manual cleaning is done by using water and brush and on contract basis and requires skilled labours and trained personals.
1)

Extreme Use of Purified water (TDS<75), Requires Purification Plant for Water

2)

Temperature of water needs to be controlled to prevent micro cracks on panels due to cold water wetting the hot surface of Panels

3)

Requires Water Pumps, sprinklers and pipe network
1)

Requires Number of Supervisors for Regular inspection of soiling on panels and maintaining the proper cleaning methods

2)

Number of skilled workers are required to properly and equally clean all p v modules

3)

Manual Dry Cleaning of Large Solar Plants can take more than 4 Days, very difficult to provide cleaning on daily or in some case on weekly basis. Cleaning during sunshine hours will affect the efficiency of p v modules. Decreasing ROI of Solar Plant
1)

No need of water

2)

Require proper, edge to edge cleaning of pv modules, and daily cleaning to maintain generation efficiency at its peak

3)

Requires proper cleaning material to prevent scratches and stains on p v modules, also dust should not get stuck on cleaning material
1)

Inbuilt sensors and weather monitoring system for detecting and even predicting amount and type of soiling on each and every p v modules

2)

No Need of Human Activity around and near solar plant as robots automatically clean the entire solar plant

3)

It takes hardly 6 seconds for a robot to cross 1 p v module. Very Few Number of Robots can clean entire solar plant within 1-3 hours. Daily cleaning can be easily adopted as it doesn't clean the plant during sunshine hours
Above depiction completely clears down that autonomous dry cleaning is best way to clean solar panels, which can save the total O&M cost and increases the ROI of the solar plant.
Our Startup Eco Impulse has come up with a solution Automatic Solar Panel Cleaning Robot (SCR-01) that cleans solar panels daily without harming them in any way and helping them to be at their peak while maintain efficiency.
Eco Impulse has presented and successfully provided trial-installation of their Solar Panel Cleaning Robot (SCR 01) to the below listed companies and have quality certifications of those companies based on the quality of service, durability and operation of robot and its structure, its effective spotless cleaning without using single drop of water, also for its ability to clean solar panels effectively without damaging the solar panels.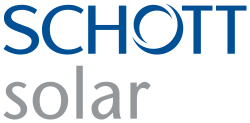 Eco Impulse has been duly recognised by many reputed entities for their innovative and customised solutions for cleaning of solar panels.
Eco Impulse is a recognised startup for creating a positive deep impact in solar market and increasing its value, profit and reliability.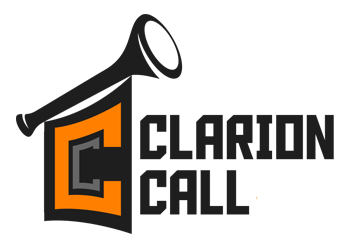 Our Robot cleans solar plant on daily basis, maintaining efficiency of solar plant generation at peak.
Regular
Maintenance
Our Team do continuous assessment on the products which has been installed at our site to keep real time record of every component to provide smooth and on time maintenance.

We customize our every product according to the requirement of solar plants. Because every solar plant is unique and has its own layout of installation.
Continuous
Upgradation
Our Team continuously do research on each part of products to regularly provide up gradation so as to make it technologically advance.

Smart
Experience
We are Ecopreneurs aiming to  create clean energy by providing efficient products and services with innovative and customized solutions following the latest standards of technology.

Strict
Deadline
We follow strict timeline to manufacture and setup our products to smoothly complete our each project.

Certified
Company
We have been certified by major industries and financial institution for our innovative, durable, effective, reliable and customized solutions.
Better yet, see us in person!

Drop us a line!
Here for you
Call us 24/7.
+91 9662508688
+91 9426776168
contact@ecoimpulse.in
Vision
Making Renewable Energy Accessible and More Reliable
Where to find us
707, Mauryansh Elanza, Shyamal Cross Road, Ahmedabad - 380015, India
Here for you
Call us 24/7.
+91 9662508688
+91 9426776168
contact@ecoimpulse.in
Vision
Making Renewable Energy Accessible and More Reliable
Where to find us
707, Mauryansh Elanza, Shyamal Cross Road, Ahmedabad - 380015, India